Here is what is out and why you NEED them!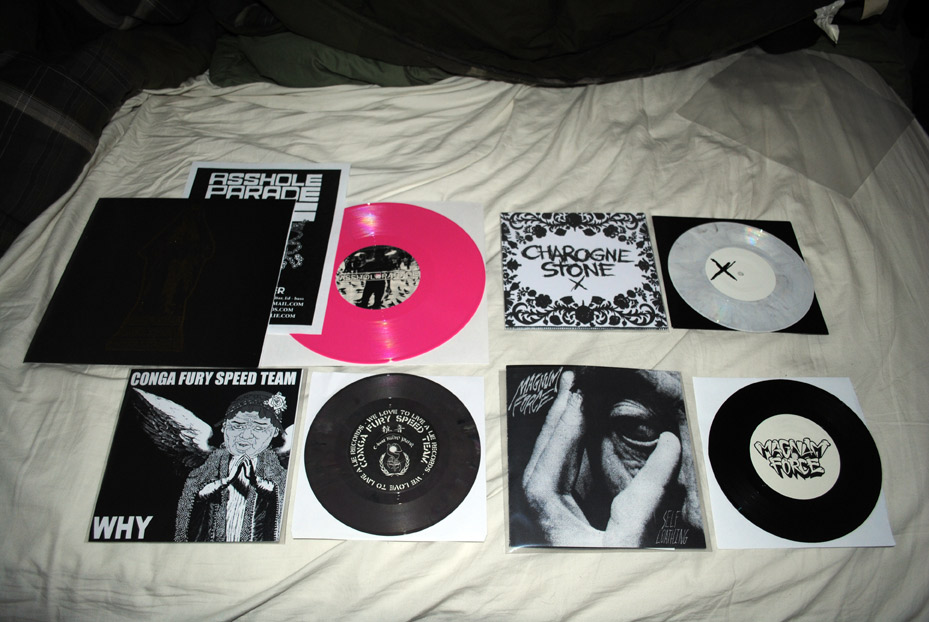 First we have the Assholeparade live 10″. Why should I convince you to buy this at all? Well its a live recording from when they played Germany. Recorded off the soundboard and then premastered and mastered down to vinyl at Lucky Lacquers to make it sound crystal clear. Gold foil stamped covers, limited pink copies. This isn't just a lofi crappy live recording, this might even sound better than the actual show did!
Next is the new Charogne Stone EP. I've only sold one of these in the two weeks I've had this, think people don't know this is out. French straight-edge powerviolence (I think its more like superfast punk violence). Best record of theirs I've heard yet. Pretty rad packaging and pretty vinyl.
Conga Fury/Shitstorm split repress is fresh in here. Sold through the first 500 copies like it was free money. All copies are on the weird gray marbled or purpley marbled vinyl. Conga Fury is crazy spastic noise punk hailing from Japan. Shitstorm is furious grindcore from Miami, this is their first and to this date only recording with Eric playing bass on it. 500 more copies and then this thing will be gone forever.
Last and definitely not least is the Magnum Force EP. This record kills everything. Grindcore very much ala Magrudergrind. Also this is the first TLAL release to come with a download code, DIY style. Super heavy covers, all on black vinyl, real grind form AZ. Do yourself a favor on this one.
Comments
comments
2 Responses to "New releases I haven't had time to hype"