With the help of Unholy Anarchy Records, TLAL is on track for a killer new four way split with some of our favorite bands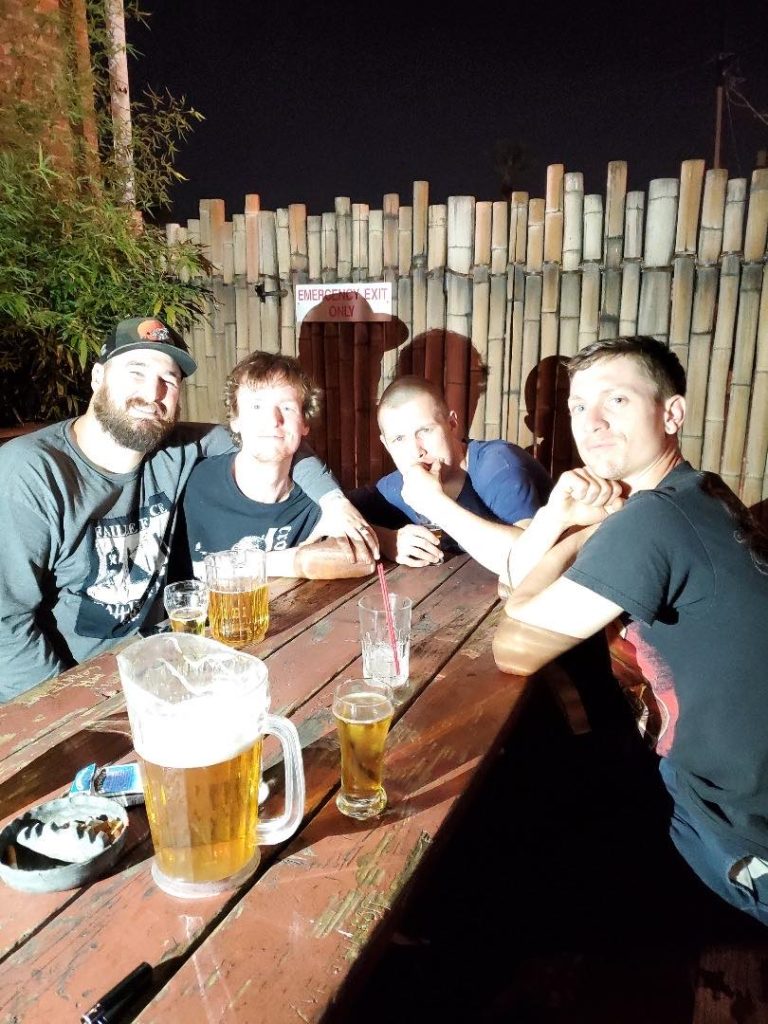 Exclusive audio premiere:
A song about disillusionment, American Scum combines blast beats, chunky grooves, and dual vocals to highlight the dark side of power and trusting the wrong people. Written primarily while touring through Canada and recorded at Developing Nations Studio in Baltimore, MUSKET HAWK calls out subhuman scumbags everywhere with a clear message: "No one gets away with it."
GRIND AND BEAR IT It is a musical group that addresses human problems with loud sounds. You, specifically, have sixteen internal conflicts that are tearing you apart right now, damaging your mental health to an irreversible degree. First, you shouldn't have said that to your family, and they're always going to hold it against you, and Grin and Bear It acknowledges this fact for you so you don't have to think about it anymore. The second internal conflict is whether or not you wasted your day today; should you have done something else, or was all your hard work for nothing? Maybe you spent hours designing and building a magnificent structure that will soon be swept away during an overnight wind advisory. Grin and Bear It knows that you did that, and they know the wind is coming, and they absorb your pain with their loud bashing and rapid screeching. Your third and fourth problem are the two insects that splattered on your windshield on your way home from the drinking party. Oh, you don't drive? Maybe it was the bus's windshield, or maybe they splattered on your bicycle helmet. How would Grin and Bear It know? They aren't omniscient and they aren't stalking you. They don't care about your transportation preferences; they only care that it's bothering you that those two innocent lives were lost due to your eagerness to travel. Your next ten internal conflicts are too private or complicated for Grin and Bear It to process, but, fortunately, you will be able to use their tight, quick tracks as a vague, ominous, and mildly effective balm for your fifth, sixth, seventh, eighth, ninth, tenth, eleventh, twelfth, thirteenth, and fourteenth inner turmoils. The fifteenth internal conflict is whether you should finally see the doctor about that shift in your mind, the changes in your perception, your diminishing ability to process the world around you. Were you exposed to a mass disabling event? Or maybe, and Grin and Bear It agrees with this theory, it's probably a throbbing mass on your brain tissue that could very well be inoperable. The sixteenth problem is more about Grin and Bear It's specific problem they have with you, and it's relevant to your undiagnosed neurological condition. Grin and Bear It wants you to stop listening to music and go see a neurologist, man…
SIDETRACKED has been crafting chaotic, stop and go hardcore punk for over 20 years. Along with their brand of power violence, in recent times they have also incorporated noisecore. The material found herein starts things off with a noisecore block before launching into a frenzy of fastcore tracks that they are most typically known for.
Taking conceptual queues from bands like Swans, Dystopia, and Noothgrush and adding musical complexity and depth to arrive at something disgusting all on its own, UGLY is at once melodic, looming, and horrific. UGLY builds a tonal environment that is at times, angelic… just long enough to win your trust; then tries to kill you by dragging you to the depths with primal, flesh-upon-gear, rhythmic upheaval of any notion of good faith and wellbeing.
Comments
comments