I had a friend who had no idea who Burnout was until I explained some of the background of the band to him and that got me thinking that a lot of you don't know some about the newer/more underground bands that I have dealt with. That brings us to the idea of doing a in depth spotlight on bands, much like I've noticed Ebullition does with labels.
Burnout is a newer band from Phoenix Arizona, but even though the moniker is newer, the members go back a ways for me. My first connection with the band was back when I had a good working relationship with Max Ward of 625 who would frequently ask me to do co-releases and I think I said to every single one of them because each one was a band I had not quite become familiar with until his email and instantly loved when he did. I was familiar with AxRxMx, but he introduced me to FinalDraft, Athrenody, Bloody Phoenix, and one of the catchiest powerviolence acts I had heard in the modern day, Get Destroyed!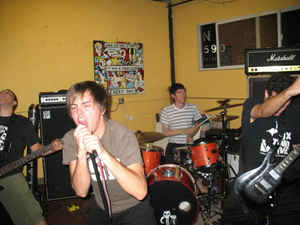 Get Destroyed, to me, mixed the power and intensity of Despise You and the sound of No Comment into a tight package. I had the luck of saying yes and co-releasing Burnt Offerings and Shut In along with 625, my friend Paul from Give Praise, and two other labels between the two releases (one being Sandro from RSR). Somewhere between putting out Shut In and talking about doing an LP/the band's last release/the ill-fated record that didn't come out, I started talking to the band directly and not through Max and I became friends with Jay from the band.
Here is Jay's take:
Get Destroyed was a band we started in high school, we only stopped doing stuff because the singer Ben moved to Olympia. We've had a bunch of reunion shows since almost always at Christmas time when he is in Arizona visiting family, the last one being in December 2015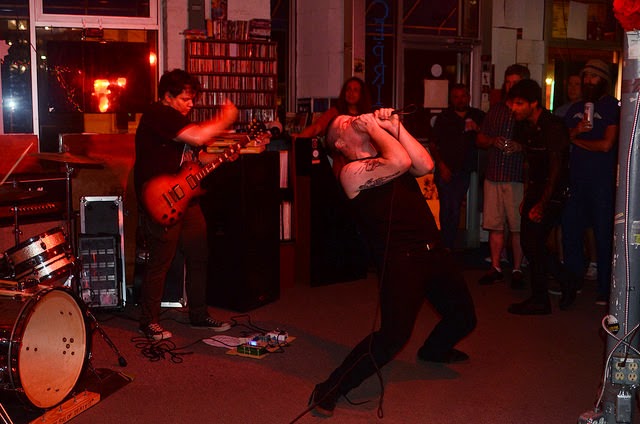 Gay Kiss was a band that popped up and got big really fast. Jay was an amazing human and asked me to do their LP at a time that didn't work for me financially and luckily the record got picked up by another label local to here, Sorry State. Honestly I think the sound fit well in the fold with SSR with the band having a sort of off the wall energy. They played here in 2014 and ripped up two shows in the same night if I remember correctly.

Jay quickly summarizes the birth of Burnout:
After the [Gay Kiss] break up, Burnout, which was a two piece, recruited Roger from Gay Kiss on vocals, and Justin (ex-Destruction Unit) to play bass in the band.
Jay excitedly told me about writing a few songs which was the formation of a new band he started. If my memory serves me right, he had a silly name for the band and I was like "man this stuff sounds rad but I question the name of the band". The name Burnout or Burn Out was tossed around and the band settled on a name and wrote a crushing EP. With the additional two members the band sounded 30x heavier and took on a Artimus Pyle/Mehkago N.T. sound which you can hear on their 2017 tour tape.
Find Burnout on Facebook and on Bandcamp.
Each TLAL band is a weaving story to me and I love the connections to bands and evolution of musicians.