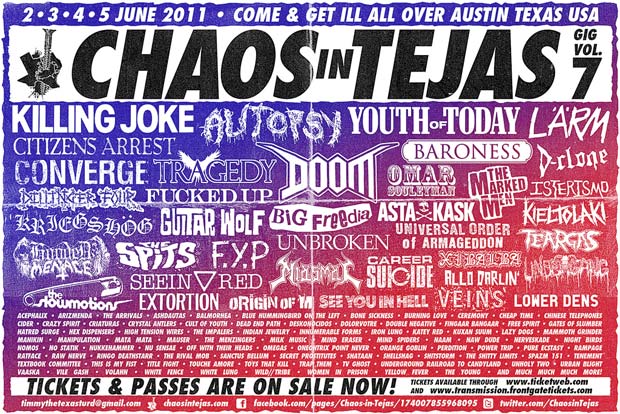 Day 1
Had a really good flight out to Texas. Got into town and got up with my friend Wyatt from college, who was super nice to put me up at his house for four days. We got some grub. We got back to his house and I was pretty antsy to get to the show, as there were a bunch of bands I hadn't heard and I was curious and excited to be at Chaos in Tejas for the first time. I had just bought a Kodak HD flip cam and an mini external condenser mic to videotape the fest so I was excited. My friend let me also borrow his bike the whole weekend so I threw the pocket cam in my pocket and was off towards downtown to Emo's to see the first show. I spent a good part of my time socializing when I got there but I saw hometown (to my hometown) Double Negative on the inside stage. It was too crazy in there to grab any video so I have none. I made the mistake of waiting too long to go back in later for D-Clone to play and had to wait most of their set at the door. I felt uncomfortable filming them by holding the camera up in front of people's faces behind me so I didn't get video until their encore, here that is:

Last band of the night was the Cro-Mags. Super excited to see them. I never really grew up on them at all, kind of assumed they were a super jock band until it was a little too late. Love the John Joseph spoken word book so I was eager to see them preform. John Joseph more a Rude Boy ska-checkered shirt and ran around the stage like a mad man. He ran in place at some points and brought a ton of energy to the stage.

Click more for the next three days:
Day 2
Friday was awesome, I woke up, realized I didn't need to be awake… and went back to sleep. I had the house to myself because Wyatt had work, and it was delightfully cold because his cousin had set the thermostat way too low. Went and got a late lunch at an awesome food cart called the Vegan Yacht with my friend John Paul from Atlanta then wasted most of the rest of day sleeping until 4 afterward. Went and got some vegan food at a place called Mother's which was a mistake because I missed Hatred Surge, ugh! Got there in time for some motivational speeches by Jensen of Iron Lung. During their set I learned all about confidence.

I then caught Australia's world renowned heavy hardcore band Extortion.

After Extortion was the amazing Citizens Arrest who did in fact play their set with Ted Leo in the ranks. The band started off with Serve and Protect and killed it. My arm about fell off recording but I got their whole set.

Last was Autopsy. I watched a good chunk of their set. Didn't get video because I was kind of boxed out of a good viewing space.
Day 3
Saturday morning I heard about a breakfast show at Cheer Up Charlie's. I showed up a little late because I convinced Wyatt to walk over to it with me and didn't expect it to be a thirty minute walk. We got there just as Lotusfucker had played about a song. Dan had severely sprained his leg at their show the day before and from where I was, appeared to be either leaning up against the stage or was on the stage crouched down. Of course its always good to see Brad and Brian from Deathrats, and I was stoked to see their band. I didn't have a vantage point yet to videotape any of it. Following them was Iron Lung. They played a compressed set as the venue wasn't really a venue at all and didn't know if the noise would get the show busted up. Less talks about confidence. See for yourself, I got their whole set.

Following Iron Lung was Czech's own See You In Hell. Only thing I knew about this band is that they are going on tour with XBRAINIAX and Lotusfucker. They weren't the type of band I thought they'd be considering those two bands, but I dug them. More crusted out hardcore than the fast stuff I expected.

Last to play was a band I had never in my life heard of named No Statik. The band absolutely killed it! Female fronted super fast hardcore. Singer was pissed and knocking people out of the way. Apparently the bass player played in What Happens Next?. Watch this full set, it'll do you some good.

Walked back after getting some more eats from the Vegan Yacht and rested up some in preparation for one of my favorite youth crew bands that I've listened to for a dozen years.
Made my way downtown with a good hour to spare before Youth of Today. Watched some of Rampage, wasn't that into it. I wanted to have seen Rival Mob because I kept hearing people talk about them but just didn't make it in time. Tried my darndest to get a good spot for YoT but failed a few times. Mohawk has a huge normal area below the stage, then stairs to the side with a weird side view, then a super high upper viewing area with a perfect bird's eye view straight on to the stage. Found my friends perched on some egg crate benches with a perfect view but I got stuck with a spot behind two short girls. Ended working out great for awhile but then two girls pushed their way in front of me and talked the whole time. They finally said "this band sucks" and walked off and I could see again. Can you imagine how pissed I was? Good riddance to those two though. Later in their set a girl was sitting on the ground to see around my and other's legs to see. Got some good video and then realized John Paul had an egg crate bench with a spot next to him so skeddadled over to him and gave the girl on the ground a place to see and gave myself a perfect view for Break Down the Walls, Minor Threat, and Young Till I Die! Those two covers I didn't expect and I was stoked. Good stage banter, Ray Capo was killing it. I'm surprised he didn't get killed out there… people were stage diving and their feet were hitting him, and he seemed to take it pretty well. People were stage diving even when he was just talking and he said "look, you don't even need us here" or something to that effect. Perfect perfect set. Here is the video I posted on another post on my blog and some audio too: Youth of Today @ Chaos in Tejas 2011.
I then mozied over to Emo's to get my crust fix. Saw Kieltolaki from Finland. Wasn't superly impressed, and I had been excited about them. Maybe the previous performance ruined it.

Kriegshog from Japan played their last show and killed it. Last was the almighty Doom from the UK. Awesome set but I was hungry. Apparently I missed them play Police Bastard, ugh! Got two vegan hot dogs and saw friends at the stand and biked home.
Day 4
Made my way over for the 2PM house show over at Brian from Chest Pain's house. Hung out with the guy's from Flesh Temple a bit beforehand and snagged some awesome vegan pancakes, glad too because I was hungry. The house was a pretty cool house, perfect size for a show like this. See two posts back and you'll see a picture from outside. Flesh Temple from NJ was first and played an hour later than the show was set to start but that was fine. They were rad, some parts were kind of emotional hardcore sounding but still brutal feeling too. The mic kept zapping Madden when he sang, don't think it was grounded right. Drummer is of Seasick fame.

Next was Shitstorm. You should know my thoughts on them. Killer!

Chest Pain played next. Matt, their bass player, had smashed his head stage diving and was getting over being concussed so I'm surprise he made it through their set. He was stomping around to the music and everything. Excellent set. Second time I've seen them and they brought it!

Last, and the band I was most excited about, was Mindless. Female fronted grindcore, with a record that I love and wrote about as being one of my top ten of 2010. Faiza was super nice and she went off on stage despite how hot it was in there.

Heard word that is a three hour walk back to downtown from the house I was at so I snagged a ride from my German friends Sandro and Sven from RSR and a nice fellow from New Mexico. We got downtown in time to see the free show at Red 7 just as Teargas went on. I didn't take the band seriously until the singer took off the mask he was wearing. Then saw the best set I've ever seen Phobia play outside. Too many people in the way most of the set to get video but I got some to prove how good they laid it down. Their new and teeny tiny new guitar player girl killed it, great addition to the band.

I unfortunately left before Kegcharge played to get my bike to have to get back home that night. Got some sushi with Wyatt before this place closed and they gave me plate after plate of extra vegetables, I assume they were going to throw away. Got back to the fest to see the almighty Capitalist Casualties. I didn't mind filming their whole set because I had seen them three time previously and didn't need to concentrate super well to them. Good quality set. My arm was about to fall off after their 35 minute set. Funny aside, my friend Dan from Archagathus walks up to me and looks at me and says "all these guys look like they could be drug dealers". I laughed then looked at them and had to agree with him. I like Cap Cas dudes a lot, hopefully you're not offended. Lots of circle pitting during their set. Some lady got right up near where I was filming and did the "this shit rules but I'm a drunk older lady" hand thing in front of my camera a bit. Her dude looked embarrassingly at me.

Didn't stick around for Baroness although the guys in that band are super nice… just wanted to get back home and crash out.
Overall amazing fest experience. You can pretty much pick what kind of fest you have unlike MDF where you pretty much are either at the club or back at your room or eating somewhere. I had a great time and I plan on going back next year.
Comments
comments