If you missed part I or part II click the links.


The Split Release Years: 2007-2009
A multi-label release (or I call them split releases) are a great way to put out more records with less of a risk with a smaller amount of money put together and damn did I do a lot of those between 2007 and 2009 so lets call these the split release years.
I started talking to the skate thrash punk band LxExAxRxNx from Italy about doing a crazy dozen plus co-release for their EP First Lesson. This whole thing went over pretty easily and quickly without much of my involvement, I think I got something silly like a dozen black copies and less of the red copies for my minimal money thrown in. Definitely a cool record. Good artwork, fast music. I was excited to work with a good band from Italy! I know there was at least one less in the world because the postman epically broke a copy and someone emailed me to show me how badly it was broken. The irony here was how it survived the trip overseas and got destroyed within the country here.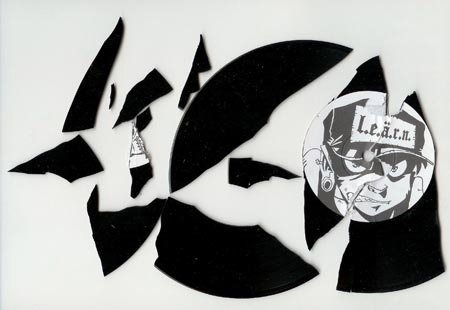 This next album is one that I was and still am in love with. My friends from Shitstorm, who as you remember from part I have been a critical part of my label from the beginning, started a new band called Mehkago N.T. This band has been termed a lot of genres that I don't really associate them with exactly, specifically crust and d-beat. I really think they are like a deconstructed and more raw and less grindcore version of Shitstorm… which I think is perfect and original. Very memorable parts. It seemed weird to do a CD-EP type thing but I loved the songs so I definitely signed up to help them out. It was good to actually do a split release with them after having talked about doing the first record with their labels. I wasn't asked to help on the vinyl release or I would have been all over that. I had the luck of seeing them at This Is For You Fest (not the year I mentioned previously but another year) and then they played in Raleigh two years after this.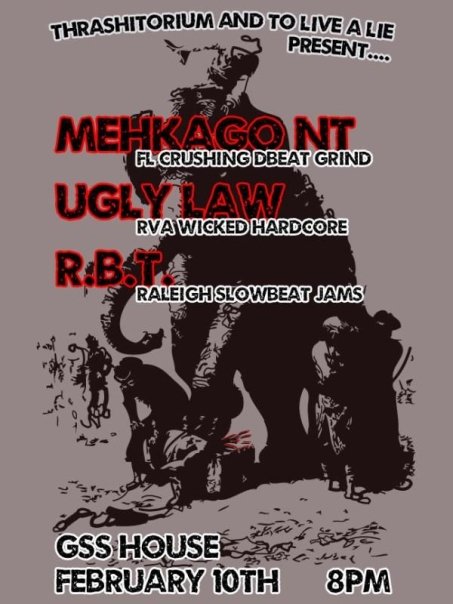 You know how I fan-boyed out to a 625 co-release before? Well the second chance happened for a release with an interesting story. Athrenody was an old Bay area grindcore band that Matt Harvey from Exhume stepped in and did vocals posthumous about fifteen years later. I think this one surprised me at how much it cost to master and get the artwork done for but it sold and in the end I have no complaints.. I was just starting to learn the fact that you should put money in to make something worth it which is something I still have to remind myself of today.
It all came back around to me needing some money for another release and 2007 was a hard year on money so I basically talked two separate friends into doing labels and thus began Bullshit Propganda and there began and ended Pile of Bile. My friend who ran POB didn't end up giving me all the money she was going to go in on it and I was sort of miffed on that but I guess that happens. Will who helped on the Skate Attack tape started BSP and did about twenty releases up until 2012 until he decided that putting out records was terrible and I agree it's not for everybody. I made some silly tinfoil with rocketship spraypainted stencil covers for the test presses of these which I cannot find a picture of easily off hand but I assure you they looked crappy and not many people luckily have them. Of course back then I was amped to do an Agathocles record and SMG from Malaysia is a pretty killer band. Glad to have my hands more in the pot on a release again and to put some more unlistenable stuff out there for people to have to collect to keep up with the never-ending AGx catalog. I'm sure people joke that ever label has done a release for them so here is my one release for them. Don't worry, I'll also put out Unholy Grave records too.
Another 625 co-release was the Bloody Phoenix – War, Hate, and Misery CD. I said no to doing the vinyl which was talked about a few months after talks about the CD started and already felt it was a stretch of my budget to throw in on the CD. BP is ex-members of Excruciating Terror, Jerry is a super nice guy and I had the luck of doing a small DIY show in Raleigh for them as seems to be the pattern of the early years. Show was fun and the one thing I remember is that no one moved from Bloody Phoenix but then the applause was huge… everyone was just astounded by their sound and how fast they played. I saw them again this year in 2015 and everyone stood around but in a bad way but there was a competing more popular show later in the day that was free so not everyone was a trooper like me and drove to Greensboro and went to both shows.
Matt Gauck drew a nice flier for the Raleigh show and I want to say he might have actually been in town and was able to go, but that may have been a future XBRAINIAX show.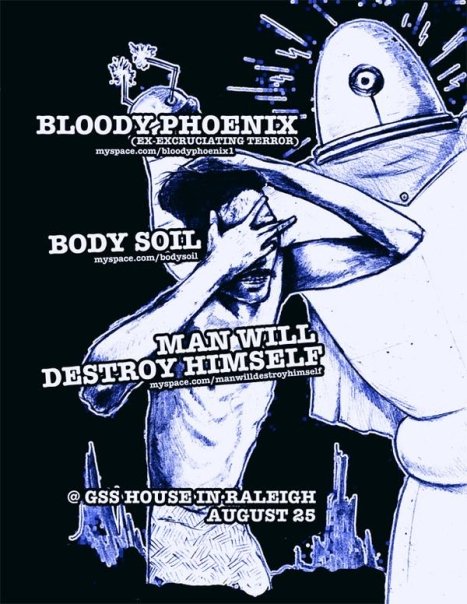 Everyone standing around for them but I'm glad to see that Eartworm who played in MWDH in the flier above, is there front and center watching them stoked:

Unfortunately shortly after this video, the band broke up so BP is no more.
As stoked as I was to put out SMG from Malaysia, I was pretty stoked to work with Proletar from Indonesia. The first pressing of Back to Hatevolution, which is a discography at that point, came as a CD in a 7″ sleeve. I remembered (not in a racist way at all) the sleeve smelling like curry or some kind of delicious spices, which I thought was awesome. Future pressing of the CD came as an actual CD in a jewel case and was less-curry flavored. Very cool release, very many labels involved on this one. I was impressed at the contrast of how full the recordings are on a portion of this compared to SMG. Again not in any kind of racist way but I know smaller countries in SE Asia have less access to recording studios and I think the first batch of songs on here sound like it could be a Magrudergrind recording..
After I helped Will Toftness start BSP, I got called in to help with his band Hip Cops and a band from Japan called Gate. Hip Cops came through and we did an unfortunate show for them in Raleigh and then I went down with them to Columbia SC and the show there was a ton of fun at my friend Kelly's house and we all went swimming after it. I don't have much more to say about this one, it's a quality grindcore split EP.
The Final Draft EP I love a lot. I quickly formed a friendship with Luis after the split with ARM and quickly said yes to Hirax Max to do this. Since I didn't have my hands in the mix of this too much, I don't have much to say. I think I remember there being a California release show for this and being excited about it.
Much as I had formed a friendship with with Luis from a previous release, I had kept up with Vasko of FxPxOx from Macedonia via email and said yes to helping on their 2003-2007 discography CD which also had enhanced material on it which is super cool. I'm actually uploading it right now, now that I remember that it exists. Vakso still pops up every few years which is amazing! Last I heard from him a few year ago is that he had just booked a Beatrap show there via his promotions called Junk Cola. Glad I got to do another amazing long discography (Magrudergrind and Proletar ones had done so well so far!).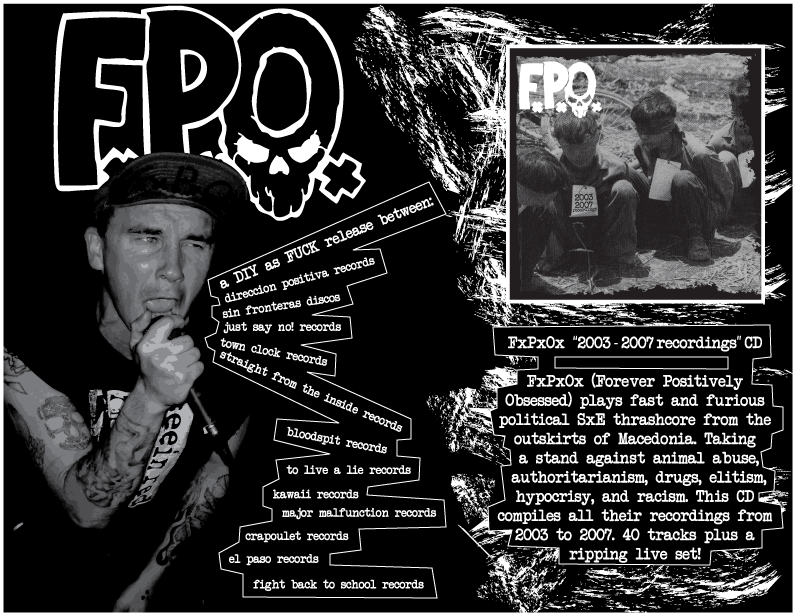 TLAL #20 was a sampler CD. I'll skip over this because I feel like this post is getting pretty long. Pro CD-R, it looked super good. Artwork colorized by me but drawn by none only but Matt Gauck aka Skater Action Matt aka Next Stop Adventure aka Circle Takes the Square merch guy.
So I had distroed at a weird fest in the town of Wake Forest which no one has ever heard of except for the fact that Wake Forest University was once located there but then moved the hell out and I was next to a nice band called Kakistocracy. I got to know Jason from the band pretty well and still run into him and talk to him every once in awhile. He is the one guy everyone knows in the punk scene in Asheville. Their band killed it and their first record was on Profane Existence. I then had the chance to do either or both their newest EP and/or their split with Nux Vomica. In retrospect I love the tracks on the EP and should have done both or maybe just that EP but I'm also happy to have worked with Nux Vomica from Portland. This record is a great piece of NC history as Kakistocracy is an amazing representation of crust punk. Last I heard a bunch of years ago is that they recorded a full length and was shopping it around and then they were no longer a band. I heard that full length and it sounded heavy, wish it saw the light of day.
The fist Archagathus split I did was annoying because the primary label was super flaky so I was glad to help with a split between them and Sakatat from Turkey and not have to deal with another "am I getting the records I paid for" situation. I guess I have a lot of similar patterns with music… much like FPO, Semih from Sakatat pops up every now and then. Last I hear from him is that he is booking in Istanbul under the name Atom Kule Collective. I personally got pretty into making sure I had all the Sakatat records as they were a killer band.
Holy crap I finally found a release in all these that isn't a co-release and it is AMAZING. I approached Mesrine about doing a split and they were super excited and asked me who I thought would be a good band to do a record with. I mentioned a number of Texas grindcore bands and mentioned both P.L.F. and 50/50, to which they replied that they'd love to do it with P.L.F. I hit up P.L.F. aka the band who hates to go by their original name, Pretty Little Flower and they were excited too so this split was born out of nowhere. I, as normal, got Matt Gauck to do some really good art. I told him I'd love to have something crazy with plague doctors on it and that is exactly what he came up with. I'm super proud of putting this record together and putting it out. The only bummer that happened is I was doing a special repress for a tour one of the band was going on and the screen-printed covers ended up looking exactly like the normal covers.
Some years ago I met Corey from Halo of Flies/Protestant who is in Party by The Slice and have or had after then talked to Carlos from ¡Malparido!. Seemed to make sense to help them both out on a cool yet funny record. I consider the PBTS material really good and heavy but definitely joke band material as far as the content is. Carlos helped me put together the enhanced material later on the Hummingbird of Death CD+. He is currently doing really amazing illustration if you look up Carlos Patino Artwork you will see his stuff that is much like the graphiti artist Nychos, with cross sectioned chopped up characters.
So, working on this CD was amazing but about killed me and Justin. The A Product of Six Cents II CD was the continuation of Justin Abare's baby (I mean other baby besides his very real physical child). The first comp was incredible with some amazing OG pv bands and we came up with the idea to do a sequel LP which hasn't happened to date but we did the CD version of it. We both found bands and I obsessively put the order of the bands together. The cover concept I came up with in the shower and wrote a huge email detailing an antisocial powerviolence toddler or middle school kid which Scott Bentz drew to a T. I'm sure I have a ton of stories to this comp as Justin and I talked for hours and perfected everything on it. The cherry on the cake was getting a brand new Assholeparade song, I have always been super into that band and that was amazing. Coke Bust gave us a song, PHC somehow is on there, we got an exclusive live Spazz song? I don't even understand how any of this happened but Justin pulled his OG NoComply strings and made it happen!
Illegal Grinding CD was another crazy co-split release with a ton of labels. International grindcore where I honestly don't love every single band but if I remember the way it worked out is labels were matched with bands from that country so TLAL and Goner were paired up which I'm fine with. Goner was a two-piece (I think?) band from Cali which is a ripping grind band.
This last co-release is a banger. XBRAINIAX challenged themselves to do a 101 song album but I think realized how impossible that would be so their discography ended up being a 99 song rager. I had helped on the NoComply split and they specifically wanted me to help along with 625 which they were totally nerding out about Max helping on any of their releases which I was in the same boat. Hail Fastcore sold like a wildfire and we did probably two pressings and then when those were gone people kept asking about that CD. The band played Maryland Deathfest pre-fest and played second to an unfortunately small crowd but they were happy to be there and play and see a bunch of metal. I see Sean at MDF anytime I go. Lucas does some really amazing art these days. I believe Zach still does a label which name escapes me but was always putting out killer noise/grind stuff.
Go on to read part IV in the series.
Comments
comments
One Response to "Ten Years of TLAL: Part III"